Why choose DBAR Productions?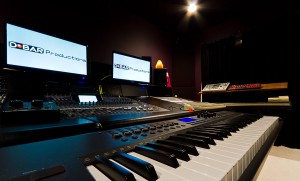 Choosing a producer/engineer and studio is the most important decision you will make for your recording project!  Above all else, you need to feel comfortable with the people you will be working with in order for you to deliver your best possible performance.  You also need to be confident that the people you work with have the ability to capture your performance in the best way possible and to make everything sound as good as it possibly can!
Choosing a studio and engineer based solely on price or equipment is NOT the way to make a decision in this business!  The best studio in the world with the most expensive gear won't make you sound great if you don't feel comfortable with the people or if the engineer working your session isn't any good.
Remember that George Martin produced the Beatles with only 4-track tape machines and very limited gear compared to what you would find in the average studio today.
A great producer/engineer can do wonders with even limited gear, while a poor one wont be able to deliver even satisfactory results with the most expensive equipment in the world.
In an effort to save money, many people turn to cheap basement studios run by other musicians who aren't really engineers and who don't do this full time for a living.  In the long run, going to cheap basement studios usually ends up costing much more money after you figure out everything is going to have to be re-recorded properly at another studio, or simply because it takes much longer to figure out how to get an acceptable sound from bad sounding rooms and cheap equipment.
DBAR Productions is run by Stephen Sherrard, a full time, highly skilled, professional producer and engineer with an extensive musical background.  I'm a very mellow and laid back person who can comfortably blend in with just about any crowd, and quickly adapts to the personality and working style of my clients.  I have an extensive list of repeat clients who keep coming back because I'm very easy to work with and extremely good at what I do.
The studio at DBAR Productions is located in my private home, but it is NOT your typical basement studio!  I worked on staff at one of the biggest and best high-end professional studios in Seattle, and I won't accept anything less for my own studio than the professional quality I am accustomed to.  In addition to having the studio acoustically designed and treated, I have carefully chosen the best, high-end, professional project studio equipment to get the level of sound quality you would expect from any professional facility.  The microphones and equipment I use are the same that you'll find in many much more expensive studios.  There is a separate tracking room (with window for visual communication), and the control room is spacious, comfortable and has been carefully laid out for both sound and that elusive "creative vibe".  Check out the studio page for more details.
Not in the Seattle area?
Even if you are not in the Seattle area, DBAR Productions may still be able to help you out.  I do a lot of work with out of state songwriters and artists, as well as multimedia companies and other corporations.  From doing high quality demos for songwriters using the top area session musicians and vocalists, to top quality professional mixing for artists who record at home or other studios, to complete background music production for artists and multimedia companies, there are many ways I can work with you!  Check out the services page for more!
Save Money with the Best of Both Worlds!
Although DBAR Productions has its own professional project studio, you aren't limited to just that facility.  As a Producer/Engineer,  I worked on staff for several years at one of the largest and best equipped high-end studio facilities in Seattle, Triad Studios.  I have also done projects with clients at many other studios around the Seattle area.  I'm a highly skilled and technically proficient engineer who can quickly and easily adapt to any studio environment and all types of equipment.
My philosophy when setting up the studio for DBAR Productions was to create a professional project studio where I could do pretty much everything except tracking  large groups.  By not having to invest in constructing and sound proofing a very large tracking room, and by not having to pay extra rent or mortgage for a very large space, I am able to pass those savings onto my clients.  The studio at DBAR Productions is big enough to track live drums or small groups, but it would be a bit tight for recording a full band all at once (although it can be done).  Most projects can be done completely from start to finish at the DBAR Productions studio.  However, I still do quite a bit of work with bigger bands, as well as large groups such as the Seattle Youth Jazz Ensembles.  For these groups, I will take them to another area studio to do the basic tracking, and then bring them back to my studio for overdubs, mixing, and mastering.  This way the group can save money by only paying for the big studios when they really need to, and doing everything else in my more cost effective studio.
For more on how you can save money on your recording project, check out the save money page, as well as my extensive article "Maximizing Your Recording Budget".
How to find the right people to work with.
The best way to choose a studio and a producer/engineer is to sit down and talk with them, and listen to some of their past work.  By talking with them, you can get a feel for their personality and how comfortable you will be if you decide to work with them.  Through listening to some of their past projects you can get a good idea of how good they are at what they do.
I highly encourage you to shop around and check out several studios and producers/engineers before you make any decision at all.  Be sure to listen to work that they have produced, and ask for client references that you can talk to as well.  Treat this like a job interview, because these people will be working for you and helping you to create your product.  Make sure you talk to and get information about the actual producer and/or engineer that will be working with you (as opposed to simply talking to the studio receptionist).  Everybody has different tastes and different working styles.  Good engineers (like me!) are able to work with a very wide variety of people, personalities, and musical styles.  However, there are times where I may not be the appropriate choice for a particular person or project.  In these cases, I am more than happy to recommend other producers, engineers or studios.
Feel free to write with any questions or to schedule a phone call or personal meeting.
To hear some of the work that I have produced, check out the audio samples page.