Media Services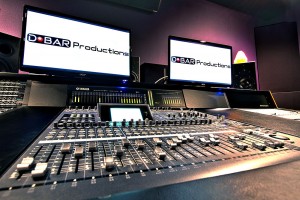 DBAR Productions offers complete audio services for any type of Media, including Internet, TV, Radio, Software/Games, Film and Video.
The following are just a few of the services we can provide.
Voice Talent Recording – Cleaner, quieter, and more intelligible dialog is possible when you record your voice talent at DBAR Productions using my acoustically designed & treated recording room, professional microphones and recording equipment.  Recordings can be moved around, time-compressed/expanded, and edited to fit your exact needs.  Recordings be delivered on CD, CD-ROM, DVD-ROM, or over the internet, in any audio file format.

Music Production – Looking for original music for your media production?  Then DBAR Productions is the place!  I can compose and produce music in any style for everything from short musical cues to complete songs.  Everything can be done in house, including the vocals, to save you money and guarantee quality.  I have over 20 years experience in composing and arranging music for a wide variety of clients, and the musical skills to perform all the parts (keyboards, bass, guitars, and MIDI drums/percussion).  Through DBAR Productions, I work with many of the top session players in the area, and can chart out the music and put together a band of top session players to record the music for the situations where nothing but a real band will do.  Session vocalists and instrumentalists can be contracted as required.  Final product can be delivered in any audio format on CD, CD-ROM, DVD-ROM, or over the internet.

Sound Effects – Custom sound effects design can be done for your next project using a combination of our sound effects libraries on CD, synthesizer programming, and live recording.  Sound effects can be combined and altered, and can be timed out to match your video files or other animation/video sources.  Final product can be delivered in any digital audio format.

Digital Editing, Optimizing, & Format Conversions – Once you have your voice talent or musical cues recorded, you need to get it into a format you can use.  I use the best and the fastest tools to edit your takes, clean up and optimize the sound file for the final format, and convert to the desired format.  In addition, a wide variety of processing options are available if you need to change the sound of a voice, speed up or slow down a recording with or without changing the pitch, add bizarre or subtle effects, remove clicks, pops or other noises, and much more!  I use a combination of several different hardware and software systems (since they all have their strengths and weaknesses) to get the best possible sound for your media files.

Web Page Services – My specialty is audio, and this includes audio for your web pages or any other internet need you might have.  See the above topics for some of the services I provide.  Music, Sound Effects, Loops & Sounds for web animations, Voices, etc., can all be optimized for the web and converted to any type of audio file.  In addition, I can help you get started in putting together a web page, setting up an internet account, scanning graphics, posting your page to the web, or even updating your computer hardware/software to get you up and running on the internet.  With a degree in Electrical and Computer Engineering, and many years of experience, there isn't much that I can't help you with when it comes to computers.  I personally designed and maintain all of the DBAR Productions web sites.  I can also help you set up software to sell digital downloads through your own web site, just as I do with LoopLibrary.com and several other sites I run.