The Console, Converters, and Effects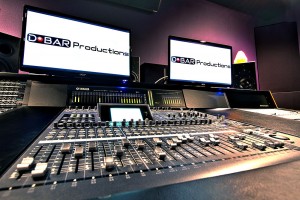 The recording/mixing console is the heart of most studios!  Even these days when computers and their audio interfaces are handling most of the work, a nice  console just makes the job so much easier and more efficient.  With a properly set up studio, centered around a modern console, it's quick and easy to set up headphone mixes for the clients without worrying about the latency of the computer's audio card and software.  Plus, you've got physical faders and knobs for controlling channel levels plus control room and studio levels.  You can also quickly change between multiple input sources to monitor, set up and monitor external effects, and even use it some consoles as a control surface for your DAW.
My studio is centered around the very powerful Yamaha O2R96 Digital Console.  It interfaces digitally with my DAW system with up to 52 channels of digital inputs, as well as up to 52 channels of digital outputs, all at the same time!  It can reconfigured with a few button presses for Surround Sound, and it also functions as a very tightly integrated control surface for my main DAW software, Steinberg's Cubase (Yamaha owns Steinberg now).
These days it mostly serves monitoring and control surface duties, as all my A/D and D/A conversions are done by my high end hardware converters, the Universal Audio 2192 Master Audio Interface, and the Lynx Aurora 8 multi channel A/D and D/A converters.  When recording, audio is simultaneously routed from the A/D converters to both the DAW system AND the Yamaha console at the same time, for latency free monitoring!  It also interfaces digitally with my Kurzweil KSP-8 multi effects for reverb or delay in the monitoring path while recording (but without recording the effects, unless desired).  It also has four of its own internal digital effects processors built in, if more or different effects are needed.
Interfacing between the console and the DAW are a pair of very powerful RME Hammerfal PCIe cards attached to two Digiface digital interface boxes.  High performance and low latency performance with up to 52 channels of inputs and 52 channels of outputs at the same time.
Here's the gear in a less verbose list form:
YAMAHA O2R92 DIGITAL CONSOLE – 52 channel digital recording and mixing console,  DAW control surface with built-in multi-effects, plus stereo and surround monitoring.
UNIVERSAL AUDIO 2192 MASTER AUDIO INTERFACE – Very highly regarded stereo A/D and D/A converters with an incredible sound.  Also serves as the master digital clock for the entire studio.  The majority of what I record goes through this box.  Not cheap, but worth every penny (and, unfortunately, no longer in production).
LYNX AURORA 8 – 8 channels of very high quality A/D and D/A conversion.  This has the ADAT format optical interface card in it for digital interfacing between the console and DAW
RME HAMMERFALL & DIGIFACE – I've got two Hammerfall cards in my DAW computer that connect to two Digiface breakout boxes for all digital audio connections to and from the computer.  These cards have no "sound" as they are not doing any conversions or signal processing.  They simply get the audio into and out of the computer in digital format.  They are rock solid, and very high performance cards capable of very low latencies.
KURZWEIL KSP-8 – An incredible 8 channel multi effects processor with reverbs that rival the most expensive units!  Once I got this box, my other hardware effects boxes rarely got turned on (including a Lexicon) and eventually got put up for sale.  The beauty of this box is it has a 8 channel optical interface, so I can digitally connect it to either my DAW or my Yamaha console (or both at the same time), so everything stays digital the entire time.  Software pPlugins are getting better every day, but they still can't beat the sound quality of this digital effects box!
LEXICON MPX1 – Lexicon's very cool multi-effects processor with one DSP chip dedicated just to reverb, and a separate chip for the other effects.  Great sounding reverbs and effects, but since I rarely turned it on after getting the Kurzweil, it has been pulled from the rack and is up for sale.
Z SYSTEMS DIGITAL DETANGLER PRO – I have two of these units for quickly rerouting digital audio to and from all the digital devices in my studio without having to mess around with physically rerouting cables.  One box servers all the AES/EBU digital audio connections (16×16 switcher), and the other handles all the ADAT Optical format audio connections (also a 16×16 switcher with each optical cable carrying up to 8 channels of digital audio).  The great thing about these boxes are that you can route one source to more than one destination at the same time.  This is what allows me to take the digital output from my A/D converters and route it to both the DAW and the O2R96 console at the same time, thus avoiding the latency you would hear if the audio had to pass through the computer first before going to the console for monitoring (which is important if you are trying to sing or play another instrument while listening to yourself through a headphone mix from the console).