Music Composition, Arranging & Production Services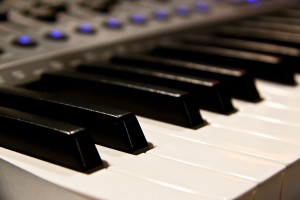 Collaborating with songwriters and other musicians to produce great songs is something I have always loved, and is what brought me into this business.

In addition to my technical skills, I have a very broad musical background and can play several instruments.  My instrument of choice these days is the keyboard, along with the very creative possibilities of computers and the vast collection of
software
and loop/sample libraries that I own.
I love to compose and produce music for just about anyone and anything!
My favorite method is collaborating with singer/songwriters, composing and producing music for their songs.  However, I have also composed and produced music for Television, Video, DVDs, Web Sites, and have also produced music for far more radio jingles than I care to admit!
I also know what my strengths and weaknesses are, and I have built up an extensive network of top professional musicians and vocalists that I call upon as needed to take my music productions to the next level.
I'm good at most popular styles of music, including pop, rock, rap/hip-hop, dance/electronic, acoustic/folk, and even metal or country on occasion.  I'm especially good at doing ballads with great vocalists, but I really do love and enjoy working on all styles of music!
I'm also very good at emulating styles and sounds.  I have often been called upon to do "sound alike" compositions that are very similar to an existing song, but different enough not to infringe on any copyrights.
For most simpler forms of electronic based popular music, such as rap/hip-hop and all forms of dance & electronica, I can usually compose and produce all that music on my own, or collaborate on the music with my electronic music production partner Stan Dart (as part of our ModalMorphosis group).
If you need more of a traditional live band type of rock/pop music composition, I can create most of that on my own using synths, loops & samples, and then bring in professional musicians to replace the drums, guitars, and bass as needed or as budget allows.  Even with my vast sound library collection, there is still nothing that beats having real musicians come in and play the parts live, adding their own unique ideas and contributions to your composition!
Music Composition & Arranging Services:
For Singer/Songwriters & Solo Artists – Whether you need original music composed for a demo, or complete music production services for any type of release, I can help out.  No matter your musical style or desired type of instrumentation, I can help you by producing the music entirely myself, or calling in top studio musicians.  Check out the singer/songwriter page for more.
Music for all types of Media – Need some original music, a custom score, or even a jingle for TV, Radio, Video or the Web?  I've done it all and can help you as well.  Check out the Media page for more.