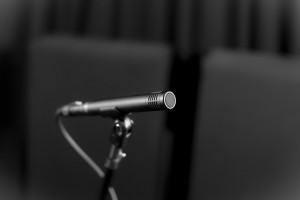 I have a large assortment of microphones that can cover every need!  Every vocalist is different, so it's important to have a selection of microphones to find the best match for that particular vocalist and song.  I have more than enough microphones to record a full drum kit, as well as any other instrument or group.  I can usually get the sound we are after simply by changing the microphone and/or its position.
Here is a fairly accurate list of what I have as of June 2012:
SOUNDELUX U195 – A versatile and great sounding microphone with a switch to select two different types of responses. My favorite vocal microphone!
AEA R84 – Great sounding ribbon microphone that delivers a smooth and pleasing sound on almost all sources. Killer!!
NEUMANN U87ai – Big open and bright, classic Neumann sound. Won this microphone for having the best mix in the Sennheiser/Neumann Bo Bice mixing competition.
NEUMANN TLM 193 – That great Neumann tradition continues with this incredible microphone that makes just about anything sound great!
NEUMANN TLM 103 – Classic U87 type capsule in a modern design. A brighter and more modern sounding microphone for vocals than the  TLM 193.
AUDIO-TECHNICA AT-4060 – Large Diaphragm Tube Condenser Microphone. Big warm tube sound!
AUDIO-TECHNICA AT-4033 – Large Diaphragm Condenser Microphone.
AUDIO-TECHNICA AT-4031 – Small Diaphragm Condenser Microphone. Great acoustic guitar sound!
AUDIO-TECHNICA AT-4041 (x2)- Small Diaphragm Condenser Microphones.
AUDIO-TECHNICA AT-4047 (x2) – Large Diaphragm Condenser Microphones with a colored/vintage sound.
AUDIO-TECHNICA ATM450 (x2) – Small Diaphragm Condenser Microphones great for drum overheads and more.
SENNHEISER MD-421 mkII (x4) – Great for toms, kick, guitar cabinets, vocals, and more!
MIKTEK C5 – Small Diaphragm Condenser Microphone.   Great microphone that I Won as a prize in the Sound On Sound Dave Pensado Mixing Contest
STUDIO PROJECTS C1 – Another vocal microphone with a bright, present sound.
SHURE SM-57 (x2) – Standards in both the studio and on stage.
SHURE SM-7b – A killer dynamic microphone on lots of sources.
Audix i5 (x2) – Great snare drum and guitar cabinet microphones.
ELECTRO-VOICE N/D 308A – Great on drums and brass instruments.