SINGER/SONGWRITER PRODUCTION SERVICES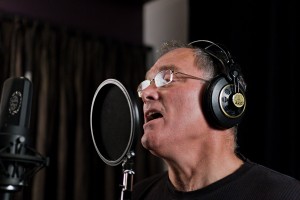 Are you a singer/songwriter or solo artist looking for a cost-effective way to put together a major label quality album project or demo?  Then you've come to the right place!  DBAR Productions & Stephen Sherrard offer complete production services for any type of project.
I got my start working with singer/songwriters during college in the mid 1980s.  I had put together a small home studio based around a 4-track cassette recorder, a keyboard with a built-in 8-track MIDI sequencer, a drum machine, a couple other synths, and some effects units.  I started working on co-writing songs with the guitar player in my college rock band, and we would record them in my little apartment bedroom studio.  As I moved around the country after college, I would find various singer/songwriters to work with.  They would sing their songs to me, and I would compose the music for their songs and play it all myself with my keyboards and drum machine.  I would then record their vocals and mix the songs.  Even though the gear was very primitive by today's standards, we still did well enough to get a few songs played on local radio stations.
I still have a love of working with very talented singer/songwriters, or solo artists, and helping them compose, arrange, and produce music for their songs.  Along with mixing, these are my two favorite parts of my "job".  There simply is nothing better or more rewarding to me than producing a really great song with great musicians!
Here are just some of the ways I work with singer/songwriters and solo artists: