Professional Mixing Services
from Award Winning Engineer Stephen Sherrard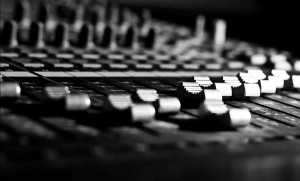 Are you recording at home or in a budget project studio, but can't seem to make your songs sound anywhere close to as good as commercial releases?
Or not even as good as other home studio projects on the web?
Maybe it's time you hired an Award Winning Professional Mixing Engineer!
Here is what 21 time Grammy winning Superstar engineer Al Schmitt had to say about one of my award winning mixes:
"WOW! Very nice arrangement with the build, textures. You've captured and added to every essential element. Wish I had done it! Excellent."
With the proliferation of low-cost digital recording equipment, it seems like everybody is recording music in their own home studios these days.  However, all the newest and best recording gear in the world is not going to automatically make your music sound better!  Without the proper training and years of experience, and without a certain amount of natural talent and great listening skills, you just won't be able to get the high quality results that consumers and industry professionals are used to hearing today.
Even if you claim you aren't trying to compete with the pros, your recordings still need to sound as good as they can possibly be!  Record companies and other industry professionals are used to hearing high quality recordings, and they won't take you seriously if your music doesn't sound as good as what they usually hear.  Even regular consumers will notice a difference (even if it's on a subconscious level) and are drawn to recordings that have that professionally produced sound more than they are to low quality recordings (even if it's a great song).
In addition to working with a wide variety of local clients in the Seattle area, I have done work for people from all over the world via the internet.  More and more people have been bringing or sending their recordings to me to take advantage of my excellent mixing and mastering skills.  Most of these people heard of me and my high quality work from friends or other clients that have worked with me before.
Mixing is one of the main specialty areas I am focusing on now, although it's has always been a part of what I have done for well over 25 years.
Mixing is one of my favorite parts of what I do, as it involves both creativity and technical skills.  I find it both challenging and rewarding!  I don't use any kind of preset mixing templates, or processing presets.  Instead, I listen carefully to the song and try to figure out the best way to convey the song's message through my mixing skills.  With each mix that I do, I strive to highlight the emotional aspects of the song as much as possible.
Don't just take my word for it, though… In January of 2013 it was announced that my mix was chosen as the winning mix in the Sennheiser/Neumann Bo Bice mixing competition.  That competition was judged by several of the top pro producer/engineers in the biz, including Al Schmitt, Tom Young, David Thoener, Karl Richardson, Tim Palmer, Greg Lukens, and Cool & Dre.  Prize for that contest was a $4200 Neumann U87 microphone.  In 2011 I also won third place in the Sound On Sound – Dave Pensado mixing competition.  I also have a long list of satisfied clients that I'm happy to share with you, and refer you to their sites on the web where you can hear samples of my work.  You can also go to the audio samples page to listen to a variety of mixes that I have done.
Send your projects to me and I will professionally mix and master your songs for you!

Details
You may be a great musical artist, but most of the best musicians and artists don't try to do everything themselves!  A big part of being successful in any business or endeavor, is knowing what your strengths and weaknesses are, and surrounding yourself with people who are highly skilled in the areas that you aren't.  It's very hard to try to do everything yourself and still put out an exceptional product!
That's where I come in.  I am very well trained and highly talented at audio and music production and engineering.  I also happen to have a very strong musical background, which is a very important part of being a great producer and engineer.  I have the musical sensibilities to know how to properly fit everything together in the mixing stage to properly convey the message and emotion of the song.  I know how to select the appropriate effects and to blend everything together in the right way so that the mix itself does not draw any attention away from the music (such as by using gimmicky or cheesy effects that are not appropriate to the song).
I also work very closely with each artist or band to make sure they get the results they are looking for.  I have a very wide taste in music and have worked with most musical styles, and have become very adept at coming very close to the sound the artist had in mind, even when I am working on my own.  All of the artists that I have worked with have been very happy with the initial mixes that I come up with on my own, and usually they only want a few minor things changed to better fit their own personal tastes.
If you are not able to make it to my studio to attend the mixing sessions personally, I will get enough details from you in advance to know exactly the type of sound you are going for, and if there are any special effects or other things that you have in mind for your mixes.  I will also send you a preliminary copy of the mix once I has it sounding the way I think it should, and then will continue to make adjustments to the mix until you get exactly what you are looking for.  Every step of the way, I will be in contact with you via phone or e-mail to give you the high level of personalized service I have become known for!
Pricing and Submission details
Even though I am a full time professional producer and engineer, there is only so much I can do!  If you are interested in having your songs mixed by me, I will first want to listen to the raw tracks to make sure the recording quality is good enough to do a professional sounding mix.  I will not take on any projects that I don't feel I can do a professional job on, or if for some reason I don't think I am the right person for the job.  My hard-earned reputation is more important to me than the little bit of extra money I might make from a project.
If there is a problem with the recorded tracks, I can help you out with technical advice about how to improve the tracks, or, in certain cases, I may be willing to hire local professional studio musicians to come in and re-record parts.
Prices for the mixing services are determined on a song by song basis.  I usually get $50 to $75 per hour for my mixing time, and will come up with a flat price for each song based on how many hours I think it will take me.  The price will take into account the usual amount of minor changes that are often necessary for a mix to get it just right, after the initial mix session.  I will keep refining the mix until you are happy, within reason.  Artists who can't make up their mind, or who insist on continual minor mix adjustments (past the point of making any real noticeable improvement) will be charged extra.
How much time it takes to mix a song really depends on how many tracks there are and how complex the song is.  A typical 24 track recording of a straight ahead rock song with a traditional style rock band can usually be mixed in 4-8 hours for the initial mix, with another hour or two worth of work for minor adjustments and assembling the finished master.
I can accept just about any format to mix from.  If it's not a format that can be handled directly with the software or equipment at DBAR Productions, then I can tell you how to make the appropriate conversions, or rent the appropriate gear to mix from or use to transfer over to a format I can handle.  I prefer to work in the digital domain using software or the totally automated digital mixer at DBAR Productions, but I have worked with all formats at a variety of studios.  I also have a variety of high end analog equipment that I can use to process tracks via insert loops.  If you would prefer to have your songs totally mixed on a high end analog console (such as a Neve or SSL) at a much bigger studio, I will be happy to do that for you as well (for an additional cost, depending on the studio used).
I can work directly with the project files from most of the major recording programs.  I can also work with files from software that I don't have (contact me to find out how to export your audio into file formats that I can use).  Currently I can directly accept project files from the following  software:  AVID/Digidesign Pro Tools; Steinberg's Nuendo, Cubase or Wavelab; Cockos Reaper; Sony's Vegas or ACID;  Adobe Audition; Reason; Fruity Loops; Presonus Studio One.  In addition I can easily work with audio created using any other PC or Mac software (such as Sonar, Logic Audio, Performer, Ableton Live, etc.) if each track is exported to a WAVE or AIFF file, and each file for each track starts at the same project time position.
For tape based formats, I can directly work with ADAT tapes.  I still have three ADAT-XT machines for up to 24 tracks, and I can easily rent additional machines if necessary.  I can also work with any other popular tape format (such as DA-88, Sony 3324 or 3348, and most analog multi-track formats) by renting the appropriate machines or taking my equipment to other Seattle area studios to do a transfer to one of my formats.
Please CONTACT me to discuss your project in more detail.
You my also read more on my dedicated mixing web site, StephenSherrardMixing.com