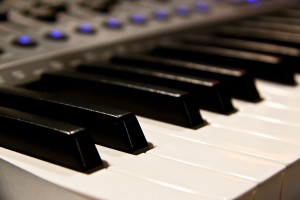 My list of hardware keyboards, synthesizers, and other MIDI gear is actually shrinking.  Software based synths & samplers have come a long way, and I find myself using them the majority of the time these days.  In addition to sounding great, software based instruments have the benefit of instant recall without any setup or patching, and are saved as part of your DAW project.  However, I still have a decent list of hardware MIDI keyboards and synths.
Here's the list:
KURZWEIL K2500XS – Full 88 weighted key version of one of the best keyboard workstations ever made. Decked out with sampling option & 64meg of sample memory, plus tons of great sounds on CD-ROM.  I don't use the sounds as much as I used to, but it's still a very nice full size weighted keyboard for those times when a real pianist or keyboard player comes in to lay down some parts.
Accss Virus B – Incredible sounding modeled analog synthesizer!  This is the one to have if you are into electronic music of any kind!  Although there are lots of great software instruments out these days (including software versions of the Virus for some systems), this one still stands up, and possibly even surpasses, all of them!  It's digital, but it's got an analog sound.  This is one box I'll never sell.
KORG TR RACK – The rack mount version of the extremely popular and incredible sounding Trinity and Triton keyboards.  A mainstay amongst the hip-hop and RnB communities.
ROLAND MC-505 GROOVEBOX – This box is killer for any kind of dance, electronica, hip-hop, rap, and other types of rhythmic music, and has lots of great realtime controls for DJ's and live performance, including the very fun D-Beam controller.
ENSONIQ ESQ-1 – My very first keyboard that holds a special place in my heart and that I'll probably never sell, even though it doesn't see a lot of use any more.  It has digital oscillators with a variety of waveforms, but is structured like a subtractive analog synth, and has real analog filters.  It's that unique hybrid of digital oscillators and analog filters that give it its unique sound!  It can be very big and analog sounding one minute, but also very digital & FM sounding the next.  It's multitimbral, so it could play 8 sounds at once, and also features a built-in 8 track sequencer.  This is what I learned MIDI sequencing on (before it was common to do MIDI sequencing on computers).
ROLAND MKS-50 – True analog rack mount synthesizer module. Very FAT!  Great for a variety of sounds.  Somewhat of a collectors item.
ALESIS D4 – Older drum module that mostly got used for click tracks once I made the switch to computer based drum instruments and samples. However, it's got 12 audio triggers and would make a great drum brain for someone with some practice pads and simple piezo pickups.