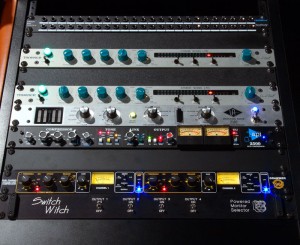 Although software compressors have come a long way, there is still something magical about a great analog hardware compressor!  I've got a nice little collection of analog compressors that I use for both tracking and mixing.
As of June 2012, here are the analog compressors that I use:
Cranesong Trakker (2) – An amazing analog compressor that can emulate all the classic compressors through use of multiple compression methods and settings. Extremely high end, versatile, and incredible sounding piece of gear. I have two of these that can operate independently or as a stereo unit via a stereo link.  The Optical and Air Optical settings on these babies are my go to compressors for vocals!  They are very smooth, clean, and transparent in this mode, and really help to tame the vocal levels.  Also great in other modes for kick and snare drum (like an UA 1176) as well as bass guitar.  These also work great as a stereo pair on the mix buss on those rare occasions when I want something more transparent than the API sound.
API 2500 Stereo Buss Compressor – Great across the mix buss, as well as many other sources. Classic API sound!  Almost every mix I do goes through this compressor.  It just provides that glue that holds everything together.  There's a "New" (feedfoward) mode for a more aggressive modern sound, or an "Old" (feedback) mode for a smoother, classic sound.
DRAWMER 1968 MERCENARY EDITION – Awesome JFET compressor with tube output stage. Great on drum overheads, the mix buss, and many other things!  It usually lives on my drum buss during mixing.  When recording live drums in the studio, it's my choice for the drum overheads.
RNP / RNC Combo – Great combination of clean sounding pre-amp and compressor from the fine folks at FMR Audio.  The RNC has a "super nice" mode that is great for smoothing out vocals and other tracks in a very transparent way.