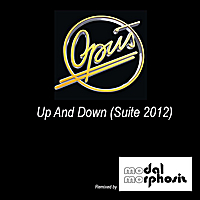 The new EP from ModalMorphosis, featuring OPUS, is now available for download on CDBaby.com.
Tracks 2 and 3 are ModalMorphosis remixes of the OPUS hit "Up & Down".  Tracks 1 and 4 are original instrumentals based on the Up & Down theme, composed and produced by ModalMorphosis (Stan Dart & Stephen Sherrard).  Mixed and mastered by Stephen Sherrard at DBAR Productions.
Modalmorphosis & Opus | Up and Down (Suite 2012) | CD Baby Music Store.